Mazel Day School is governed by a Board of Trustees that includes committed individuals who volunteer their time and resources to help the school achieve its vision. Our board is passionate and dedicated to our school, our community and its future.
The Board's responsibilities include: strategic planning, development, and financial oversight. The Board welcomes your questions or comments, which can be emailed to mazelboard@gmail.com.
---
Milana Feldman
Milana has been on the Board of the school since the Board's formation in 2010. Milana was born in Pyatigorsk Russia and immigrated to United States in 1989 together with her parents and sister. Milana grew up in Brooklyn where she first attended Lincoln High School, then Merkaz Bnos High School, spent a year as an exchange student in Israel and received her Bachelor's degree in Management Information Systems from Pace University. She has broad experience in various industries & held prestigious positions in major corporations such as Prudential Financial, Credit Suisse First Boston, Ernst & Young, JP Morgan and JetBlue Airways. Milana is married to Igor Feldman, who graduated Long Island University with Bachelors in Science and Masters in Physical Therapy. Milana and Igor are the proud parents of two daughters and two sons. As her family was growing, Milana decided to give up her corporate position and her frenetic schedule and change careers, to be able to spend more time with kids. With her keen business acumen and flair for fashion, being at the helm of a women's boutique was the natural choice. For the past 9 years, Milana is an entrepreneur and an owner of woman's boutique – Zori. 
---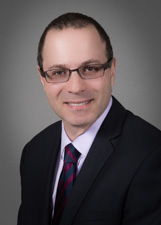 Boris Khodorkovsky, MD
Chairman of the Board
Boris strongly associates himself with the concept of "Torah U'Mada" -- a synthesis between Jewish and secular knowledge. In its essence, it is defined as a centricity of Torah, overall intellectual pursuit and contribution to the society at large. Therefore, it is Boris' belief that Mazel Day School is perfectly positioned to achieve this goal by combining Jewish values and learning with rigorous secular education.
Boris is a practicing emergency medicine physician and is currently an Associate Chair of the Emergency Department at Staten Island University Hospital. Boris grew up in St.Petersburg, Russia, prior to emigrating to New York in 1991. His wife, Nika, is actively involved in the school. Their two kids — Emanuel and Bina — are part of the MDS family. 
---
Rabbi Avremel Okonov
Rabbi Avremel Okonov was born in New York. His father is from Ukraine and his mother from Moscow. He grew up watching his parents devote their lives to helping others. His father, at the Lubavitcher Rebbe's instruction, was one of the founders of the F.R.E.E. organization, which works to assist Russian-speaking Jews. After receiving his rabbinical degree in Melbourne, Australia, Rabbi Avremel decided to follow in his father's footsteps, and founded Mazel Day School together with his wife Chani, where he serves as the Executive Director today. Rabbi Avremel has worked with children of all ages for many years, here in our community, as well as in Manchester, Kishinev, Vilna, and more. He has received training from Young Israel Institute for Rabbis, as well as from the Institute of Day School Management at Columbia Business School. He believes and follows the Lubavitcher Rebbe's vision and philosophy to accept and love every Jew, and inspire and educate them about our great Jewish heritage in a warm and kind environment. The secret to Jewish continuity is rooted in the 3 loves: Love of Hashem, Love of every Jew, and Love of our holy Land of Israel, all of which are tied together through the light of Torah. Rabbi Avremel is part of the team of rabbis at the Hebrew Alliance/F.R.E.E. Synagogue. He lives in Manhattan Beach together with his wife Chani, and children, Mendel, Shifra, Dovid, Mordechai Yisroel, Bluma, Bassi and Yocheved. 
---
Irina Rakhlis
Irina is very passionate about building a Jewish community and strengthening Jewish life and identity among Russian-speaking Jews (RSJ). As a board member and lay leader at Mazel Day School (MDS), Irina has a unique opportunity to be part of an organization that serves as a source of inspiration and guidance for Brooklyn's RSJ community as they explore and cultivate their Jewish identity. Irina is also a member of the Natan RSJ giving circle that supports innovative approaches to strengthening the Russian-speaking Jewish community in North America. Irina is currently participating in the first cohort of 2015 COJECO Keystone Fellowship, a visionary effort to cultivate and nurture distinguished lay leaders committed to shaping the Jewish future and strengthening their organization.
Born in Kiev, Ukraine, she immigrated to United States at the age of 11. Irina spent 13 years on Wall Street as an investment banker at JPMorgan Chase and as a commercial banker at Landesbank Hessen Thuringen. She is a graduate of Pace University, NYC. Irina enjoys spending time with her husband, Dimitriy Goloborodskiy, and their three daughters, Jacklyn, Ariella and Dalia, living in Brooklyn, NY. 
---
Erik Yankelovich
Erik immigrated to the United States with his family in 1990 from the Carpathian part of Ukraine which was devastated by the Holocaust. Erik's maternal Grandmother is a survivor – one of 8 siblings to make it out alive. She practically saw her parents and brothers and sisters walk into the gas chambers. From his paternal side, both of his grandparents, who were married before the war, were "lucky" to come out of the camps alive and reunite, but without all three of their children. They were able to rebuild their family by having three more kids postwar. Erik is an active members of The Shteible in Manhattan Beach where he and his family have found a "home" and have become involved with this Synagogue's outreach to the Russian Jewish Community as well. Erik attended Sinai Academy High School followed by Stony Brook University where he received a Bachelor of Science Degree in Computer Science. He has been a Commercial Real Estate Broker with GFI Capital for over 13 years. His specialty is Apartment Building Sales in the 5 Boroughs of NYC. Erik, his wife Rimma and their two girls reside in Manhattan Beach, steps from the school.