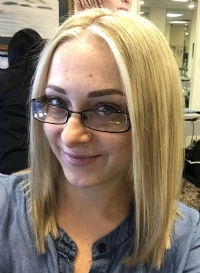 Mariya Tselenchuk, Pre-K Teacher (General Studies)
BIO: I have been working as a teacher for almost three years now. I graduated Touro College with a Master's Degree in Special and general education (Birth-2nd Grade). I started out working in a private preschool for a year and a half. I then worked in a UPK school for eight months. Shortly after, I started working in Mazel Day School as of September 2017. Although I enjoyed working in all the previous schools, working in Mazel has brought me the utmost joy! From the wonderful children, to the amazing parents and to the even more exceptional staff and director. It truly is a blessing and an honor working in such a warm and loving environment.
I became a teacher because… as early childhood educators, we are the foundation of learning and success that leads to a lifelong learning process. Being a teacher is surely not an easy job. However, when I remember why I got into this career in the first place, it helps me stay focused when I experience the occasional challenging days.  I try to make sure that my students receive the best education. As a teacher, I feel that I must motivate, inspire and encourage my students to strive for success. As an educator, it is my responsibility to lift them when they are down.
My educational philosophy is… I believe the purpose for education is to prepare students for the real world and instilling a love for learning at an early age. I love seeing the difference I make in their lives. I love hearing stories from parents about what their children share with them what is being learned in school. I want to know that by the time the children leave my classroom, they have gained something that will stay with them forever. I want to know that I have made a difference in a child's life. I truly believe being a teacher is the most rewarding job.
I joined Mazel because… we share the same teaching philosophies. I wish to instill a love for learning that will carry with the children into adulthood. Also, it is okay to make mistakes, this is how learn. We are not perfect however, if we keep trying and never give up, we are bound to create something magical.
My favorite memory from being a student is… when I was young and was playing with my friends in school and reading now books.
The most difficult part of teaching Pre-K is… finding a topic or activity that the whole class will enjoy as a whole. However, I try to introduce that particular topic by reading different books and doing experiments in the classroom/showing the children real-life objects in the classroom.
My best advice to parents is… to allow their children to make mistakes. No one is perfect but with practice, we can achieve any goal we set our minds to. I encourage this rule in the classroom as well. I teach my students that we must never give up. At first doing certain things may seem challenging however, we should never give up. After a few times, we will most certainly prevail and we will be able to do things that seemed impossible to do before.

If I would not have become a teacher I would have become… I truly believe being a teacher is my calling in life and can't imagine doing anything else. It is truly rewarding and a blessing teaching young children.
A trick I use in my classroom is... I try to teach my students to also be kind to one another and treat others the way they would like to be treated.
Outside of school I like to… When I'm not in the classroom, I enjoy spending time with my family and trying new places to eat. What can I say, I'm a major foodie! I love teaching and eating yummy food :).